Here are some frequently asked questions. If you're looking for something that isn't here then please do get in touch, either through the contact form or by emailing shop@getstuffedbook.co.uk direct.
Delivery
How much is delivery?
Delivery within the United Kingdom is free on all items (introductory offer) and is via Royal Mail 1st or 2nd class where appropriate.
Do you ship internationally?
Yes I do, although I don't have shipping prices online yet for a flat rate of £3.50 GBP per item, via Royal Mail's Airmail. Please contact me for more information.
How long until my order is posted?
I aim to dispatch "in stock" items within a maximum of 2 working days.
And how long will delivery take?
UK delivery takes up to 7-10 working days from the dispatch date, however I cannot be held liable for delays due to postal strikes etc. International (Airmail) delivery times vary. If you're in a hurry for your item(s) please contact me, and I'll try and help out!
Privacy and Security
How secure will my details be?
All payments are processed using Paypal which uses encryption to secure your card details. This minimises the possibility of fraud.
Will my personal details be kept private?
Yes. I respect your privacy and will only use your personal details to process your order or to contact you about it.I will never send you newsletter emails without your consent, and your details will never be passed on to a third-party. I hate unsolicited mail as much as you!
If you'd like to know the nitty-gritty, have a look at the Privacy Policy.
Ordering and Payment
What forms of payment do you accept?
I use Paypal to handle payments and through that can accept most Credit/Debit cards including: Mastercard, Maestro, Visa, American Express, and Switch.
Do I have create an account to make a purchase?
No you don't. You can place an order without needing to create an account.
And do I need a Paypal account to order from you?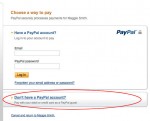 Actually no, you don't need a Paypal account either. When paying for your item(s) you have the option to pay via credit or debit card using Paypal's "Don't have a PayPal account? … pay as guest" option, circled in red in the image to the left (click the image for a closer look).
Problems and Complaints
Help! I'm having a problem using the website/something's not working properly, who can I contact?
Please get in touch with me either through the contact form, or directly at admin@getstuffedbook.co.uk and provide as much detail as possible regarding the problem.
I'm not satisfied with something, who do I complain to?
Although I endeavour to describe everything accurately and minimise errors, mistakes do happen, I'm only human. If you're not happy with something please use one of the options on the contact page to get in touch.
Cancellations, Returns and Damaged Items
Can I cancel my order?
If your order has not been dispatched you can use the contact page to get in touch and request a cancellation, or use the "cancel" option on your "my account" page (if you created an account).
If your item has already been dispatched please see "returns", below.
My item has not arrived, or has arrived damaged, what do I do?
Although rare, it is possible that your item has been delayed in the postal system. Please run through the checks here (scroll down to Lost, Damaged or Missing items) and then get in contact. If your item has arrived damaged then please see "How do I return an item?", below.
How do I return an item?
Please get in touch with me via one of the methods on the contact page within 7 working days from the delivery date of your item to let me know you would like to start the returns process.Please view the returns portion of the Terms & Conditions for more information.