[product id="454″]
A bit like Sandra Bullock (in Miss Congeniality) my wish for 2014 would be for world peace, but the news has been almost as dire as the weather. However, my new sunshine alarm clock wakes me up to increasing light, bird song and the sound of flowing water. I am wondering whether it's the light or the water which ejects me from my bed to the bathroom!
There has been a steady flow of book orders for both Get Plastered and Get Stuffed since Christmas through in to the New Year, perhaps from folk spending present money which is lovely. As I delved into the last box of Get Plastered books to fulfil a postal order, I realised that there are only 25 left! So if you would like a copy of Get Plastered from the last 25 books remaining, order now and if you would like it signed – just mention that as you order.
This has prompted me to think about the possibility of a third book. Gestation is usually about two years especially as at the moment I have several ideas to explore and can't say which path I'll tread. I will let you all know as soon as there is news to report.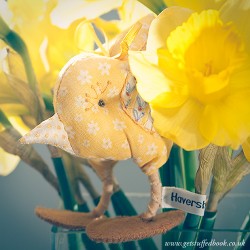 For a number of weeks I have been mostly making cushions (and curtains) which has encouraged a creative emergence from dark, dull days. This has been followed by happy hand stitching with members of the Durham Embroiderers' Guild at The World Heritage Visitor Centre in Durham City and the hatching of an Easter chick!
After hibernating and dusting off my domestic goddess (ha!) over Christmas, I am getting back into thinking and planning what comes next. Meanwhile, I have decided to concentrate on sorting out more items to go in the shop and am in the process of getting the various stuffed birds online, the first of which, the Dot Spot Forget-me-Nots are busily 'chirping' there already.
If you join the Maggie Smith Contemporary Textiles Facebook group you'll be kept up-to-date with my goings on, and you can also follow me on Pinterest to see what has interested me or is currently inspiring me.