[product id="396″]
"Dot Spot" birds, as they were affectionately named by my husband, Mike, were launched at Fashion, Embroidery & Stitch at the NEC, Birmingham and the kits with instructions are now available in our online shop. Based on the 'Birds with Attitude' from the 'Get Stuffed' book, these stuffed fabric birds were designed to be simple to stitch using materials that are easy to access.
Ready made "Dot Spot" birds, boxed and gift wrapped, will be online soon for those that would like to purchase one handmade by myself. However if you can't wait, then birds can be purchased from Crushed Chilli in Durham, and also the Porta Dextra gallery in York has just received their first shipment of "Dot Spots".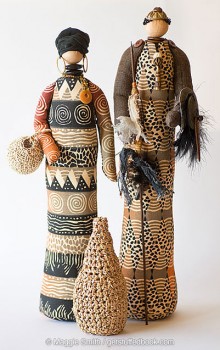 The African Stump dolls from the same book and shown in the image on the left, can also be viewed online at The African Fabric shop and in their newsletter. The African Fabric shop stocks the fabric which was used to make the dolls, plus African beads and other delights.
In other news, unfortunately I won't be at the Alexandra Palace for the Knitting & Stitching Show this week  (11th – 14th October), but you will find my books "Get Stuffed" and "Get Plastered" there on sale at Art Van Go and the Embroiderers' Guild Bookshop.