If you (like me) have bags of delicious fabric remnants stashed away in anticipation of that "special project", but aren't sure what that may be, then this month's Stitch magazine may have the answer. I explain in the article entitled "Dandy Birds" how to make use of these fabric remnants by constructing your own lovely stuffed bird for a gift, or simply as a keepsake that will make you smile.
When I discussed an article for "Stitch" magazine with Kathy Troup (Stitch's Editor) she was adamant she wanted "birds with attitude", from my book Get Stuffed: shape, stuff and stitch, and after seeing Kathy's plea to readers for articles showing unusual stitches or using stitches in an unusual way, I decided I wanted these birds to be colourful with more decorative stitching. And so the "Dandy Birds (all dressed up and nowhere to go)" were born.
I spent some time furtling for fabrics in bags and boxes, as one does, and decided here at last was the opportunity to use some of those treasured scraps of silk I had been saving.
The Dandy Bird's wings are hand embroidered with five of my favourite stitches: Tête-de-Beouf stitch (chosen because the name tickled me, and it's such a pretty stitch), Straight stitch (for its simplicity), Pistil stitch (for its resemblance to feathers), Fly stitch (for its trellis effect), and Oyster stitch (another pretty stitch), all with French knot embellishments. The eyelashes are embroidered with Fly stitch, and all hand stitching was done with space dyed silk threads.
I think they will make delightful Easter presents and I hope you enjoy making them. Happy stuffing!
Lineage of the Dandy Bird
These stuffed birds are in a direct line of descent from the "birds with attitude", with inspirations from the "decorative bird", both designed for my latest book Get Stuffed, shape, stuff and stitch.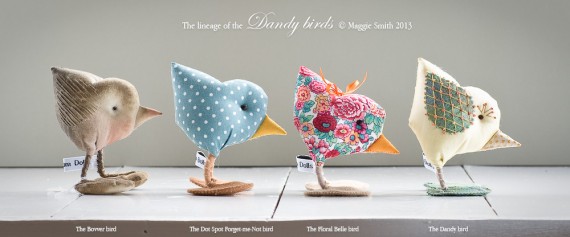 Also part of this flock are: the "Bovver Birds with Big Feet" (made from hand painted and stuffed calico), the Dot Spot Forget-me-Not Birds and kits which appeared last March 2012 at the NEC Fashion Embroidery & Stitch, the Floral Belle Birds made from Liberty lawn fabric bought at the show, and the Christmas Bell Birds made for the festive season.
Copyright and Fair Use
I've had several queries regarding Fair Use of the patterns and instructions. So to clear things up: please feel free to make as many birds as you want for yourself, or as gifts for friends and family, but please do not sell or reproduce the patterns, instructions, or the birds (whether as kits, or as finished products) as the copyright resides with myself.